Posted by Rachel Basinger on 26th Sep 2018
It's late September, so it's back to school for everyone! The relaxing days of summer at the pool—but with the heat!—are gone, and the cool, crisp days of autumn with falling leaves, bonfires, apple cider, and pumpkins are setting in.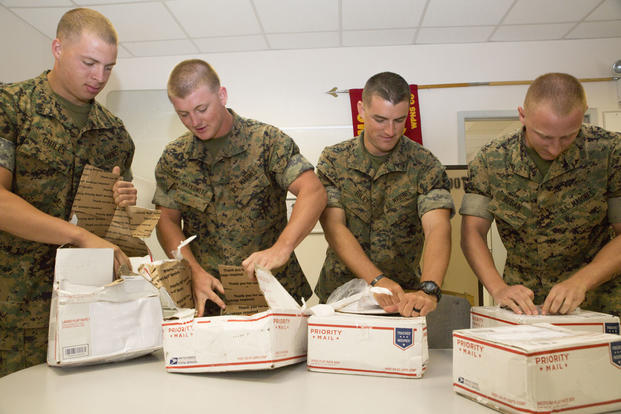 Now is a great time to start thinking of getting your school involved in sending care packages. Whether you're a student who wants to get your class involved in sending just one care package to a relative overseas, a parent who wants to get other parents involved in sending a large group of boxes, or a teacher who wants to get his or her students involved in writing letters to our service members, sending something from your school to our military members is a package that they will always remember.
As Shane M., a Lieutenant Commander in the United States Navy, noted in an earlier article, "I personally love getting cards and letters, and I think everyone would agree with me. Kids draw us really funny pictures (like a big bomb with 'USA' on it, striking terrorists!) that we hang up in our shop." With the holiday season drawing near, a thoughtful care package or a nice note to a service member overseas will really make his or her day!
We've come up with three ways that you and your school can get involved, which vary in levels of commitment and therefore can fit with a plethora of classrooms and schools!
1.Write a Letter to a Service Member.
Service members love and have always loved letters! Our June 6 post in honor of the anniversary of D-Day talked about the importance of keeping up the tradition of writing letters, so if you need some inspiration, go check out that older post!
If you know a relative, friend, or friend of a friend serving overseas, have your class sign a big card for that service member and include small notes. Or, if you know a group of service members overseas, have each student write a personalized note to a service member.
On the other hand, if you don't know anyone personally, you can send a letter through an organization. After 9/11, you are not allowed to send any mail addressed to "any service member," according to the USPS. Organizations like A Million Thanks, Operation Gratitude, and Soldiers' Angels will send letters to deployed military members even if you don't personally know the individual.
Remember! If a child is sending a letter, include only his or her first name and do not include an address. Only an adult should include his or her last name and address (if desired).
If you want to incorporate writing a service member into your plans, there are a variety of lesson plans available online for different grades. If you teach elementary school, Scholastic has a Veterans Day writing activity —although of course you could use it any time in the year—that goes step-by-step in how to write letters to service members for grades 3-5. Whereas if you teach middle school or high school, PBS has a lesson plan for middle schoolers and up that connects reading primary source material from WWII letters to writing letters to service members currently serving. This lesson plan is helpful in that it includes national standards and support materials.
2.Send Items/Care Packages Through an Organization.
Maybe you want to put a little more time and effort into supporting our troops, but don't want to have the hassle of assembling a care package yourself. There are a variety of ways you can participate.
One way is sending specific items through an organization like Operation Gratitude. They have an up-to-date wish list, and all you would have to do is divide the items amongst the students. You can even buy some of their wish list items through Amazon: pitted snack olives, chapstick, sewing kit , individual drink mix packets, beef jerky, Gold Bond body powder, Kleenex Wet Wipes, mechanical pencils, cleaning wipes, puzzle pack, sunscreen, gum, and socks.
If you prefer to send an entire care package, Military.com has an excellent list of vetted organizations that provide care package services. Some programs are really neat like Operation Shoebox's Troops for Teachers, which connects teachers and classes with individual service members who are deployed.
Be careful, though! There are some organizations that purport to send care packages to military members but are really just scams. Make sure that the organization you choose is trustworthy!
You can even send a full package through us! You can donate an amazing military care package to one service member, or you can donate 10 boxes if you have a larger class or want to get your whole school involved.
3.Send Your Own Care Packages.
If you want to have the fun of getting together items, decorating the care package, and including it with really special things, you should send your own care packages! Check out pinterest for inspiration—there are so many neat ideas!
Sending your own care package means that you will need to know a specific military member or unit, and it is obviously going to be easiest if you teach in a military area like I do in Jacksonville, North Carolina.
If you don't teach in a prominent military town, like my mom for example, try to get in touch with a friend or relative who does. He or she would definitely be willing to help you out.
We have a variety of tips in our older blog posts of how to put together a care package. First, make sure you include the right items. We tell you what to include, what NOT to include, and what service members really want.
Second, make sure that you successfully navigate the rules and regulations on addressing a customs form—we address that here and here—and take advantage of the cheapest way to ship. I personally can vouch that regional boxes are almost always the way to go—you will often save $10 or more!
Finally, if you need a step-by-step guide to make sure you did everything right, we have that here!
How do you plan to get your school involved? Figure out which way is going to be best for you and your school and then send that care package or write that letter to a service member (or service members!) deployed overseas! If you have any great ideas of getting schools involved, shoot me an email at rachel_basinger@herocarepackages.com!